Paradigm Waterproof Luxury Vinyl Flooring
Many flooring brands claim to be waterproof, but how many are made to truly handle ALL of life's little splashes (and downpours)? Paradigm waterproof luxury vinyl flooring can take it all: from pet accidents to potty overflows. With dozens of stunning styles, it's easier than ever to beautify your residential and commercial spaces, without ever having to worry about wetness woes.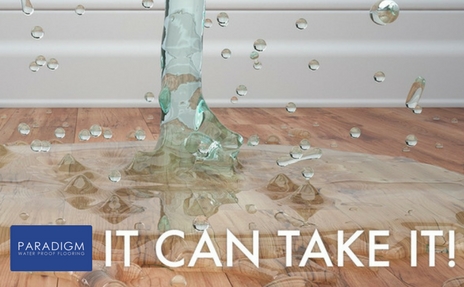 Explore Paradigm
Keeping grease, grime, and spills out, while gracing your spaces with such realistic, wood-inspired visuals as Tiger's Eye and Sandalwood, Paradigm is made with business owners, pet parents, and large families in mind.
With its protective finish, Paradigm luxury vinyl is easy to clean, and stays newer, for even longer. It's also Floor Score certified, meaning you won't have to worry about bringing potentially harmful VOCs into your home.
While damages are few and far between, Paradigm luxury vinyl flooring planks are also extremely easy to repair- adding to its appeal and endurance. Learn more here:
At Carpet One Floor & Home in Farmington, we're proud to carry a full line of Paradigm products. Visit our showroom today and learn what Paradigm can do for your favorite spaces.