Your Local Kitchen and Bathroom Design Center
Carpet One Floor & Home in Farmington, NM is more than your local flooring resource; we are also your local resource for home design services. You can come to us for all of your flooring, décor, and design needs. Our certified design consultants are here to help you design the perfect space for your home. If you are looking to update or design a new kitchen or bathroom, look no further than us. We have the largest selection of tile in the Four Corners area, in addition to lighting fixtures, plumbing, and vanities.
You spend more time in your bathroom than you think. It is typically where you start and end your day, so why not have a bathroom that reflects your personal style. We offer several different bathroom design services, and our design consultants can help you make your dream bathroom a reality. Our certified installers work through us, so you know your job will be done by the experts. We also offer free estimates, and will come to your home to do all free measurements. We even offer financing options for major bathroom renovations. Below are different options we offer when it comes to bathroom design. Or, learn more about our Design Services here.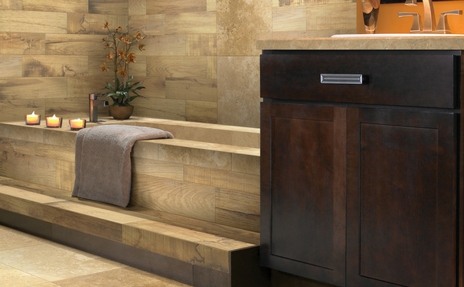 Using Tile in Your Bathroom
Tile flooring is a traditional option when it comes to bathrooms. Tile is known for being durable as well as resistant to heat and moisture. We offer a wide selection of tiles that are perfectly suited for a bathroom. Durable tile like porcelain is usually a common choice when installing tile in a bathroom. Porcelain is baked at a higher temperature than ceramic tile, so it comes out denser and more resistant to moisture, making it a great choice for bathrooms that see moisture every day. Many porcelain tiles come with a textured surface to make them more resistant to slipping, but you can always use a bath mat for extra protection.
Other ways you can use tile in your bathroom is having it installed in your shower. We offer large format tiles to create a custom tiled shower for your home. We also offer shower niches and Better Benches. We can create custom tile layouts, custom shower pans, and you can choose from a variety of tile sizes, styles and more. We also offer custom backsplashes. Add a touch of style to your bathroom without a total overhaul by adding a backsplash. We can help you design a backsplash using classic mosaic, modern subway tile, or whatever tile you think would look best in your bathroom.
Bathroom Vanities
There is more to your bathroom than your floor and shower. Vanities play a major role in your bathroom in terms of style, functionality, and even storage. We have small single sink vanities that are perfect for powder rooms, and we also have larger double sink vanities that are well suited for larger bathrooms or master bathrooms. In addition to vanities we also offer lighting and plumbing fixtures to tie your entire bathroom together. Depending on your style and bathroom design, you can choose from stainless steel fixtures or brushed metal.
Check Out Our Design Center
Bath Design
---
Kitchen Design
---
Vanities
---
Lighting